Meet Adrian Schiegl, Head of Data Science at XUND
Since most people don't have a very clear conception of what Data Science actually is, we talked to our Head of Data Science, Adrian Schiegl to find out more about this fascinating topic and the impact it has on XUND.
Adrian gave us some insights into his day-to-day work and the challenges that come along with it. 
What does a typical day as Head of Data Science at XUND look like?
Adrian: We're still a relatively small team, so I get to do a lot of hands-on stuff. This means reading, designing, implementing and debugging machine learning models. Also, as a team lead, I have to make sure that the things we're working on are relevant to the company and its goals. I try to ensure this by working with OKRs and sprints — so at least every two weeks, we have to reevaluate our approach. Things change quite a bit, especially when introducing new products, so it's important to evaluate and adjust to ensure we're on the right track.
How did you end up at XUND?
Adrian: Honestly, I was just looking for a master's thesis topic while studying at the TU Wien. My professor at the time proposed one offered by XUND on extracting medical information from natural language text to improve their Medical API. It was exactly what I was looking for, and apparently, I was the most qualified applicant for the program, so I was accepted. After finalizing the thesis, I was offered a position at XUND — so here I am. I'm happy to say that we still have an ongoing cooperation with TU Vienna and I hope to collaborate on another topic in the future.
"No one is really looking for data; they just want information, and that's the essence of our job here at XUND — to turn data into knowledge so people can take action based on the information we provide."
Data is a term that's thrown around a lot nowadays — for those who don't come from a data science background, what is data in its simplest terms?
Adrian: Data is actually something people confuse a lot with information and use both terms interchangeably even though they're very different. In fact, data is just symbols, devoid of meaning — but it becomes information when you interpret it and give it meaning. No one is really looking for data; they just want information, and that's the essence of our job here at XUND — to turn data into knowledge so people can take action based on the information we provide. As data scientists, we're used to data not being perfect, which is why we're already content when it is complete and somewhat structured. But even this is a challenge because healthcare data is often collected only with human readers in mind or with a false notion of what computers can do. The hope is that, with a more systematic approach, we will move towards the automatic recording of machine-readable information and no longer require vast amounts of preprocessing.
Why is data important in digital healthcare?
Adrian: I don't think digital healthcare is any different from any other domain. In the past, it was just humans who interpreted the data, but today computers are taking over because the amount of data that is produced every day exceeds our capabilities.
For this reason, natural language processing is a core approach by XUND; we believe there's a lot of knowledge hidden in plain sight but not accessible without the help of machine learning. We're building machine learning models that extract the relevant information for us and provide a summary of data from a million sources. These types of summaries help us build best-in-class products such as our Medical API, which we just recently certified as a Class IIa medical device under MDR. That really demonstrates our excellence in this domain and puts us among the leading tech companies in healthcare. In the past, our main focus has been on scientific studies and case reports, which are of high quality but are biased toward the novel and uncommon. Therefore, we're increasingly moving to include real-world data. For example, right now, we're looking at more practical information from hospitals, which isn't rare or exciting, but it concerns most people. Sometimes it's complicated for both humans and computers to interpret the language used in these sectors, so this is a challenge for the future — it will be interesting to see how this whole area will develop.
What is the biggest data challenge you are dealing with right now at XUND?
Adrian: Our biggest challenge right now is "to see the wood for the trees", which means getting an idea of what approaches are going to work and which ones are not. For example, we might be working on something that seems promising, and then it doesn't work out because of a bias we didn't take into account. Also, finding models that work for both our NLP and API systems continues to be challenging — there are always ways to improve. Another big challenge is getting high-quality data to help us train our machine learning models to find new associations between medical concepts — which is difficult because of data protection and because of sloppy, incomplete, or incorrect data recording. Healthcare systems are often outdated, and the need for improvement hasn't been recognized, so automating data recording is something to strive for in the future.
How can big data create a benefit for:
Healthcare patients?

Adrian: I think patients want the best information possible to make informed decisions about their health. One way of using a natural language processing tool, such as ours, is for discovering connections between medical concepts and diseases which can help develop new drugs or vaccines. At the moment, we're trying to digitize patient health so we can act on information earlier and more accurately than previously. For example, patients can use our product to record occurring symptoms and build a current state of health report, which an MD can use for diagnostic purposes.

Healthcare providers like insurance companies, hospitals, etc.?

Adrian: Of course, along with improving patient health, healthcare providers also want to improve their processes. If they succeed in speeding up their processes, it costs them less money and makes everything more efficient, and hopefully less inconvenient for their clients.
Tell me a bit more about an exciting project you're working on right now and what impact it will have on XUND.
Adrian: We're currently working on improving our in-house tool called DISCO, an acronym for Disease Symptoms Correlations Obtainment. This tool reads through vast amounts of medical literature, collects medical information, and finds associations between diseases, symptoms, and other medical concepts, which allows us to add or refine an illness in our Medical API. So that in the end, one of our medical doctors can access this compiled information. Our process is to let the computer do the groundwork, then we present the results and summaries to medical professionals who apply their experience to refine the model. One of the ways we're improving DISCO is by teaching it to understand negations better, as in when someone explicitly mentions the absence of a symptom. Also, in the future, other information such as lifestyle factors e.g. alcohol consumption, exercise, etc. will be taken into account and included in the analysis.
 
Your colleague Andras has spoken about how the data and development teams are moving closer together — can you tell us a bit more about that?
Adrian: Although the two teams have been separated in the past, they're now starting to work more closely together by merging two data sources; the information we pull from text documents and the knowledge the development team extracts from MDs to create one large database. That's our plan for the future, which is exciting.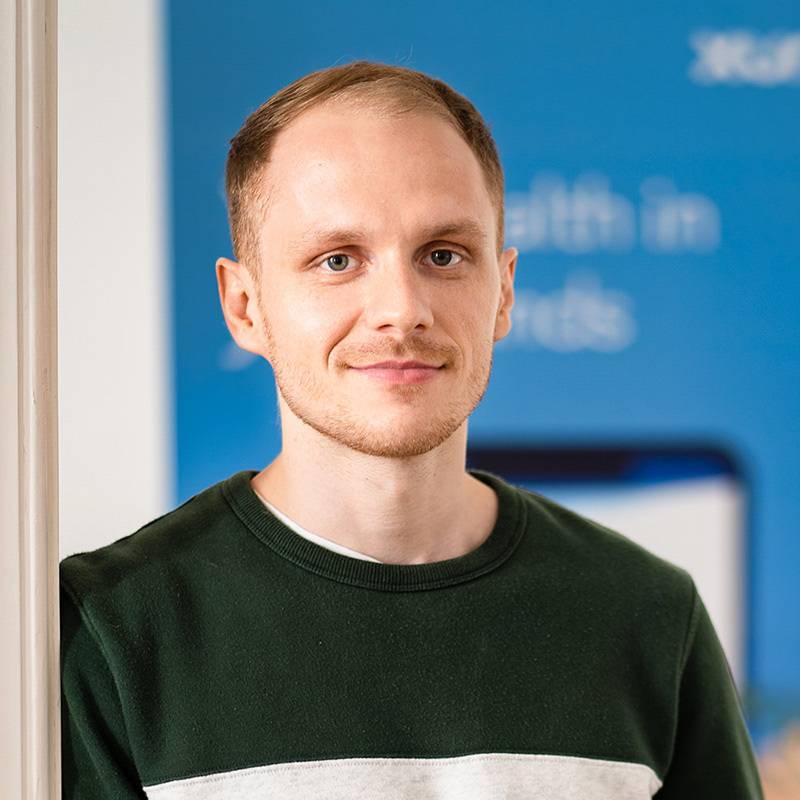 This or that? 
Tea/coffee - "Black tea"
Dog/cat

Sweet

/salty - "Somewhere in between"
iOS/Android
Early bird/night owl - "I'd like to be an early bird but stay up way too late"
What do you like most about working at XUND?
Adrian: The thing I like the most is the people I work with — when I go to the office it feels like I'm hanging out with friends. However, while it's great to work with people who are your friends, I sometimes have to remind myself to keep the two things separate.
 
If you could go back to the first day you walked through the XUND office doors, what advice would you give yourself back then?
Adrian: Honestly, at first, I was just expecting to be a data scientist when I started here and that's it. Being an engineer, I know I'm not the best networker. But I noticed over the past year how important it is to approach people the right way and that was something I struggled with at first. Thanks to our Head of Growth, Lukas, I've learned how to improve the way I introduce myself at events and get-togethers, which I appreciate. That's something that I probably should've thought about earlier.
If you want to dive deeper into topics such as our long-term research collaboration with TU Wien, the first steps into Bayesian Neural Networks and how it finally plays into our Medical API, you can listen to the podcast where Adrian shares additional inside views about his work at XUND on Austrian AI Podcast: