DoctorBox
DoctorBox provides a comprehensive digital ecosystem that helps patients take greater control of their health. The super-app offers a very wide range of services, most of which are proprietary. It also features select services from external partners such as XUND, whose Medical API was first integrated into the DoctorBox platform in July 2022.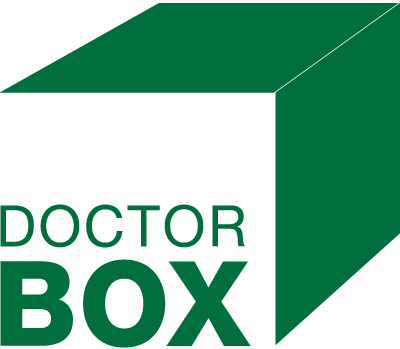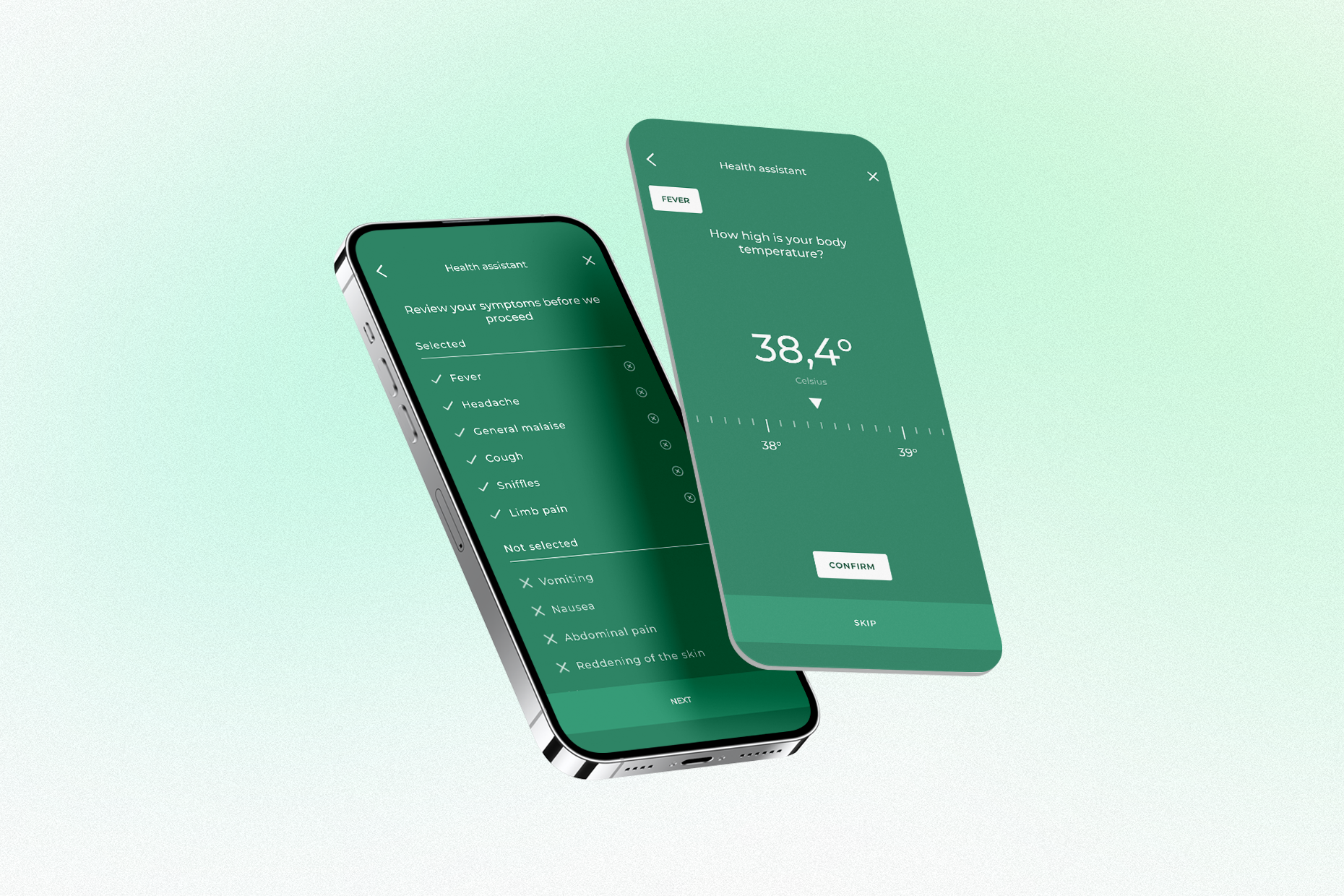 About DoctorBox
DoctorBox is a centralized health data platform. It facilitates secure communication between patients and doctors along with several other features, including diagnostic, pharmaceutical, and medical services. This comprehensive approach allows for better tracking of the healthcare process. With a user base exceeding 1.2 million, digital health pioneer DoctorBox has become one of Europe's largest independent health marketplaces since it was founded in 2016. It is available in multiple languages, ensures end-to-end encryption, and holds ISO 27001 certification.
One main focus of DoctorBox is on fostering engagement, as it allows the platform to provide further recommendations either through user inquiries or based on data analysis. The company aims to enhance this aspect by expanding its offerings in diagnostics, pharmaceuticals, therapy, and prevention, both by providing its own services and through collaborations with external providers. The aim is to create 360-degree digital general medical care, i.e., "the home clinic".
Modules
Symptom Check
Illness Check
Regions
Austria
Germany
Switzerland
Project overview
The partnership with XUND enables DoctorBox to broaden its range of services by incorporating both the Symptom Check and the Illness Check. For patients seeking support through the DoctorBox app, this means they can rely on both symptom-based navigation and the ability to present a suspected diagnosis for reassessment. This functionality is seamlessly integrated into both the native iOS and Android version of the DoctorBox app. Additionally, a web version of the DoctorBox platform is currently being launched to provide further accessibility and features.
Due to the numerous positive reviews from its user base and the outstanding accuracy of XUND's AI technology, in June 2023, DoctorBox made the decision to extend its partnership with XUND. This move ensures that DoctorBox can continue to offer their users additional value, and a seamless and uninterrupted patient journey with the support of XUND's technology.
Outcome
XUND's Symptom Check and Illness Check are crucial components in ensuring a seamless customer journey for DoctorBox's clients. With a track record of delivering consistently accurate results, XUND has gained the trust of patients. The AI-powered solution provided by XUND is particularly important in acute care, as it helps optimize resource allocation and greatly assists in the pre-assessment process.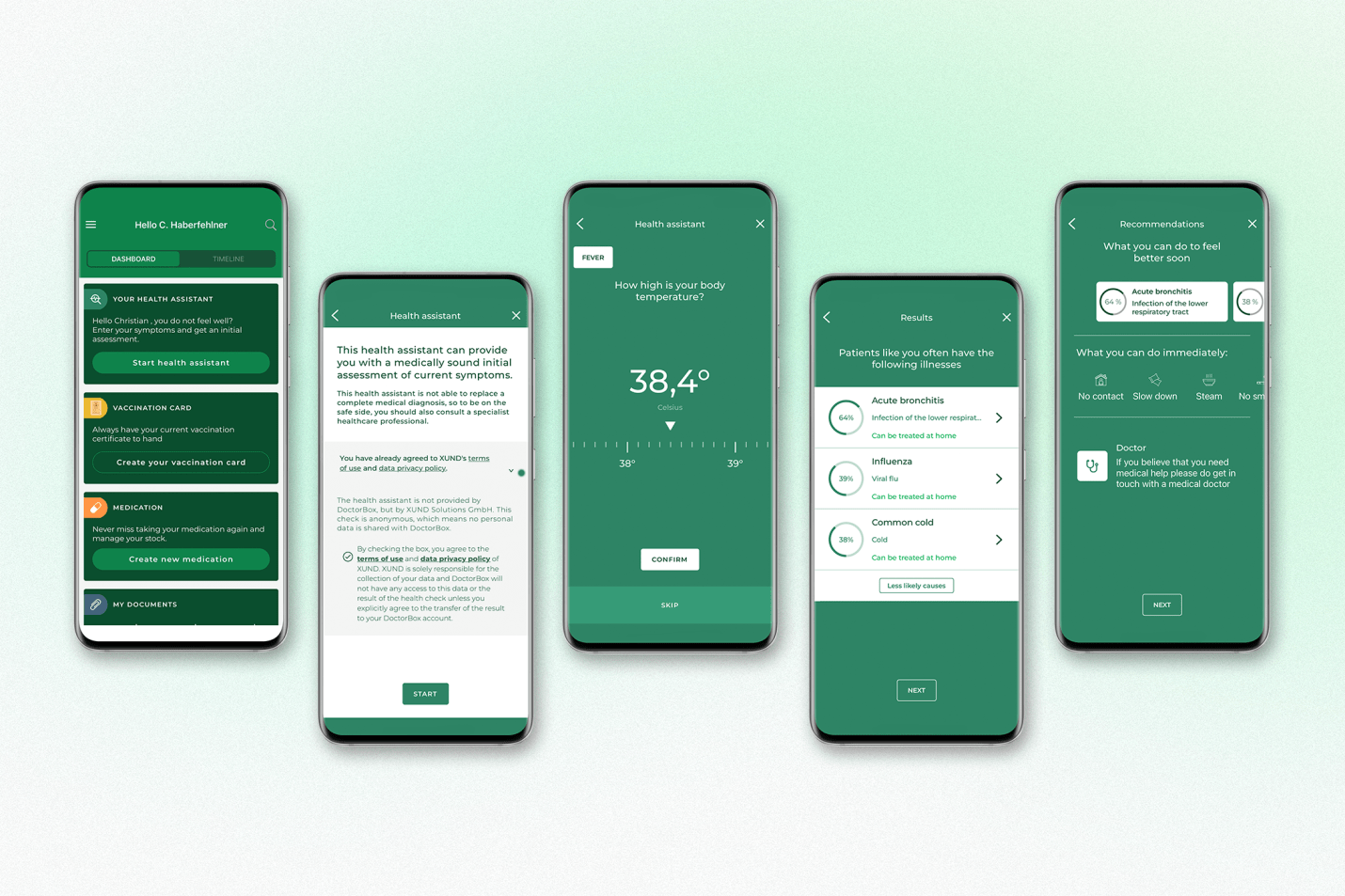 Partnering up with XUND allows the DoctorBox super-app to:
Enable users to promptly seek appropriate medical attention, whether it be visiting a specialist or expediting a visit to the emergency department.

Save the assessment outcomes in a structured format, such as a PDF for long-term storage.
Provide patients with recommendations and relevant content tailored to their specific needs.
Effortlessly incorporate top-notch technology, with seamless integration from backend to UI.
Avoid the need for self-certification by leveraging the certification of XUND's Medical API, all while ensuring an integrated user experience.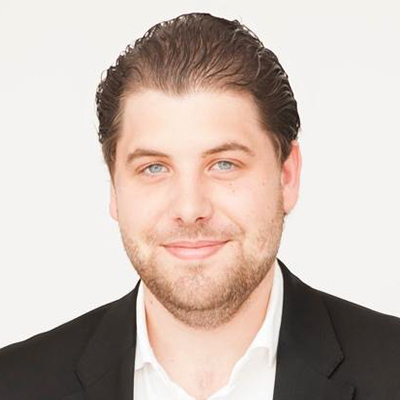 "Adding XUND's Medical API helped us develop a highly advanced and smooth patient journey. It ensures a seamless experience for patients from symptom identification to outcome, setting it apart as one of the most sophisticated approaches on the market."
Julian Maar
COO of DoctorBox
Why DoctorBox partnered with XUND
Following a thorough assessment of available options, DoctorBox made the strategic decision to partner with XUND and incorporate their AI solution into the DoctorBox super-app. Ultimately, what convinced the decision-makers at DoctorBox was that XUND outperformed all competitors in terms of output quality. While ease of integration and the class IIa medical device certification were important, they merely served as supplementary factors in the decision-making process. The primary factor guiding this choice was the exceptional accuracy and added value provided by XUND.
The goal of DoctorBox is to establish the platform as one of the leading European champions in the healthcare sector, excelling in both user satisfaction and revenue generation. At XUND, we are delighted to be a part of DoctorBox's path to healthcare excellence and look forward to another successful year in our partnership.